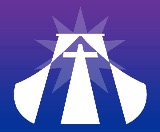 AUGUST 2020




HYMN: COME LET US JOIN OUR CHEERFUL SONGS
Introduction: 01Intro and Audio Come let us join our cheerful songs (To hear the audio file please right click mouse, then left click to open new tab)
Isaac Watts was born in Southampton, July 17, 1674. He is said to have begun the study of Latin, when he was just 4 years old, and was writing poetry by the age of seven. In 1702, he became pastor. He was apparently an inspiring preacher. Because of a breakdown in health (1712), at the invitation of Sir Thomas Abney, he went to stay for a week's visit with the Abneys, in Hertfordshire. He remained with the Abneys for the rest of his life.
He is generally recognised as one of "the greatest names among hymn-writers," having over more than eight hundred hymns published.
Watts died November 25, 1748, and a statue was erected in Southampton, and there is also a monument to his memory in the South Choir of Westminster Abbey.

1
Come, let us join our cheerful songs
with angels round the throne;
ten thousand thousand are their tongues,
but all their joys are one.

2
'Worthy the Lamb that died,' they cry,
'to be exalted thus';
'Worthy the Lamb,' our lips reply,
'for he was slain for us.'

3
Jesus is worthy to receive
honour and power divine;
and blessings, more than we can give,
be, Lord, for ever thine.

4
Let all that dwell above the sky,
and air, and earth, and seas,
conspire to lift thy glories high,
and speak thine endless praise.

5
The whole creation joins in one
to bless the sacred name
of him that sits upon the throne,
and to adore the Lamb.

PRAYER
02 Prayer Aug 2020 (To hear the audio file please right click mouse, then left click to open new tab)
Almighty and eternal God, we come before you acknowledging your omnipotence and wanting to say how grateful that your love for us is all embracing. We marvel that your faithfulness o your promises to provide for our needs extends for us beyond anything we deserve.
When we realise all you do for us we become aware of the kind of love you have for us and long to show you just how you much we want to tell others just what you mean to us.

So many in the world are struggling at the moment with having to socially and being unable to have the support they need. We live in times when we need so many miracles. Not only are we having to cope with the coronavirus pandemic, there are leaders of nations who are not governing with compassion for theur own people and are affecting the security of other nations. We need opportunities to reveal Jesus to them and for your Holy Spirit, dear, Lord to convict them of the beauty ad wonder of living for you.

Grant, we pray, to all Christians and increasing vision of what you can do in us and through us and give us the courage to be what you want us to be for you.

Accept we pray, our promise to serve you with all our heart. This we ask in the precious and worthy name of Jesus. Amen

HYMN: PRAISE HIM! PRAISE HIM!
Introduction: 03 Intro and audio Praise him (To hear the audio file please right click mouse, then left click to open new tab)
Words by Fanny Crosby, published in1869.
Fanny (more formerly known as Frances Jane Van Alstyne) was an American mission worker. She wrote more than 8,000 hymns and gospel songs despite going blind shortly after birth.
The music was written by Chester Allen, also an American. He was a teacher, composer and a musical writer. For some time he edited the New York Musical Gazette and he taught in the schools of Cleveland, Ohio.

1
Praise Him! Praise Him! Jesus, our blessed Redeemer!
Sing, O Earth, His wonderful love proclaim!
Hail Him! Hail Him! Highest archangels in glory;
Strength and honor give to His holy Name!
Like a shepherd, Jesus will guard His children,
In His arms He carries them all day long.

Refrain:
Praise Him! Praise Him!
Tell of His excellent greatness;
Praise Him! Praise Him! Ever in joyful song!

2
Praise Him! Praise Him! Jesus, our blessed Redeemer!
For our sins He suffered, and bled, and died.
He our Rock, our hope of eternal salvation,
Hail Him! Hail Him! Jesus the Crucified.
Sound His praises! Jesus who bore our sorrows,
Love unbounded, wonderful, deep and strong.

3

Praise Him! Praise Him! Jesus, our blessed Redeemer!
Heav'nly portals loud with hosannas ring!
Jesus, Saviour, reigneth forever and ever;
Crown Him! Crown Him! Prophet, and Priest, and King!
Christ is coming! over the world victorious,
Pow'r and glory unto the Lord belong.

BAND : MARCH : ANTHEM OF THE FREE
Introduction: 04 Intro and audio Anthem of the free (To hear the audio file please right click mouse, then left click to open new tab)
The composer, Dean Goffin was a Salvation Army Bandmaster before enlisting into the New Zealand armed forces during the 2nd World War. He became Bandmaster of the newly formed band of the 20th Infantry Battalion and later on the 4th Infantry Battalion. Whilst he was serving in the Middle East he composed this march initially under another name 'Bel Hamid' The march was later adapted and renamed 'Anthem of the Free'.
Dean Goffin went on to have much music published and won several composition prizes which led him to compose a test piece for the British Open Brass Band Championships, notably, 'Rhapsody in Brass'. He completed his BA in music in 1950 just prior to him entering the Salvation Army Officer Training College in Wellington. He was later appointed to head up the Salvation Army's music in the UK which he did with distinction before moving back to New Zealand to ultimately become the Salvation Army's leader in that land. Dean Goffin was honoured by the Queen with a knighthood on the occasion of the Centenary of the Salvation Army's work in New Zealand.
Inserted into the original Bel Hamid march to make the march as we know it as 'Anthem of The Free; today are the words given here.
The words associated are

1. Ring the bells of Heaven, there is joy today
For a soul returning from the wild!
See, the Father meets him out upon the way,
Welcoming His weary, wandering child.

Chorus:
Glory, glory, how the angels sing!
Glory, glory, how the loud harps ring!
'Tis the ransomed army, like a mighty sea,
Pealing forth the anthem of the free.

2.
Ring the bells of Heaven, there is joy today
For the wanderer now is reconciled!
Yes, a soul is rescued from his sinful way
And is born anew, a ransomed child.

3.
Ring the bells of Heaven, spread the feast today;
Angels, swell the glad, triumphant strain!
Tell the joyful tidings, bear them far away,
For a precious soul is born again.

GOD'S TITHES AND OUR OFFERINGS
05 God's tithes (To hear the audio file please right click mouse, then left click to open new tab)
Being committed to building God's kingdom on earth is a privilege afforded to all Christians. To see people coming to faith in Christ brings such blessing, but we know that God needs human hands and hearts to bring the gospel to people. Together with prayer and trust, we have to have access to finance to enable us to open the doors as we evangelise.
Let us take a few moments to determine where it would be best to allocate our finance. Waiting on God for his guidance will open our minds to where our finance should go. A prayer for that, please:-
"Dear God, bring to our thoughts, we pray, where we should give finance to support your disciples who are sharing your Word. This we pray for Jesus' sake. Amen"


HYMN: CHRIST, WHOSE GLORY FILLS THE SKIES
Introduction: 06 Intro and audio Christ whose glory (To hear the audio file please right click mouse, then left click to open new tab)
This hymn by Charles Wesley was written in 1740 but is unusual in that it does not contain the customary reference to the previous night's rest or to the work and dangers of the day ahead. The text begins by placing the focus entirely on Christ, the "light of the world," the sun of Righteousness who rises with healing in his wings"; he is the "Dayspring" and "Daystar." Thus the "light of Christ" is to fill our lives and lead us forward "to the perfect day." James Montgomery, himself a great hymn writer held this hymn in special esteem, and regarded it as "one of Charles Wesley's loveliest hymns.

1
Christ, whose glory fills the skies,
Christ, the true, the only Light,
Sun of Righteousness, arise,
triumph o'er the shades of night;
Dayspring from on high, be near;
Daystar, in my heart appear.

2 Dark and cheerless is the morn
unaccompanied by thee;
joyless is the day's return
'til thy mercy's beams I see;
'til they inward light impart,
glad my eyes, and warm my heart.

3 Visit, then, this soul of mine;
pierce the gloom of sin and grief;
fill me, Radiancy divine;
scatter all my unbelief;
more and more thyself display,
shining to the perfect day.

CHORAL: WRITTEN IN RED
Introduction: 07 Intro and audio Written in red (To hear the audio file please right click mouse, then left click to open new tab)
A modern song which has blessed so many across all denominations.

In letters of crimson, God wrote His love
On a hillside so long, long ago
For you and for me, Jesus died
And love's greatest story was told


I love you, I love you
That's what Calvary said
I love you, I love you
I love you, written in red


Down through the ages, God wrote His love
With the same hands that suffered and bled
Giving all that he had to give
A message so easily read


I love you, I love you
That's what Calvary said
I love you, I love you
I love you, written in red
I love you, I love you (I love you)
I love you, written in red


BIBLE READING Luke 10:25-37
The Parable of the Good Samaritan
08 Luke 10 vs 25-37 (To hear the audio file please right click mouse, then left click to open new tab)
25 On one occasion an expert in the law stood up to test Jesus. "Teacher," he asked, "what must I do to inherit eternal life?"
26 "What is written in the Law?" he replied. "How do you read it?"
27 He answered, "'Love the Lord your God with all your heart and with all your soul and with all your strength and with all your mind'; and, 'Love your neighbour as yourself.'"
28 "You have answered correctly," Jesus replied. "Do this and you will live."
29 But he wanted to justify himself, so he asked Jesus, "And who is my neighbour?"
30 In reply Jesus said: "A man was going down from Jerusalem to Jericho, when he was attacked by robbers. They stripped him of his clothes, beat him and went away, leaving him half dead. 31 A priest happened to be going down the same road, and when he saw the man, he passed by on the other side.32 So too, a Levite, when he came to the place and saw him, passed by on the other side. 33 But a Samaritan, as he travelled, came where the man was; and when he saw him, he took pity on him. 34 He went to him and bandaged his wounds, pouring on oil and wine. Then he put the man on his own donkey, brought him to an inn and took care of him. 35 The next day he took out two denarii and gave them to the innkeeper. 'Look after him,' he said, 'and when I return, I will reimburse you for any extra expense you may have.'
36 "Which of these three do you think was a neighbour to the man who fell into the hands of robbers?"
37 The expert in the law replied, "The one who had mercy on him."
Jesus told him, "Go and do likewise."

HYMN HERE IS LOVE
Introduction. 09 Intro and audio Here is love (To hear the audio file please right click mouse, then left click to open new tab)
Words :William Rees and William Williams and the music is by Robert Lowry. There are several versions of this hymn. This is the shortest one with just two verses but they convey some beautiful truths.


Here is love, vast as the ocean
Loving kindness as the flood
When the Prince of Life, our Ransom
Shed for us His precious blood
Who His love will not remember?
Who can cease to sing His praise?
He can never be forgotten
Throughout Heaven's eternal days


On the mount of crucifixion
Fountains opened deep and wide
Through the floodgates of God's mercy
Flowed a vast and gracious tide
Grace and love, like mighty rivers
Poured incessant from above
And Heaven's peace and perfect justice
Kissed a guilty world in love


POEM: THE GOOD SAMARITAN

10 Poem The Good Samaritan
(To hear the audio file please right click mouse, then left click to open new tab)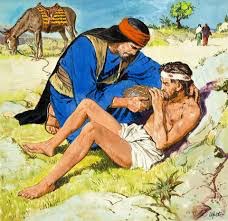 He was lying on the ground
But no one seemed to care,
People passed by heedlessly
Afraid to even stare,
In fact, they hurried past him
His injuries ignored,
Concerned for their own safety
As though they were forewarned.
He could be someone's brother,
A father or a son-
Could someone not have bothered
To see what could be done?
If you or I had seen him
Would we have passed him by
Or viewed him as a stranger
And cared not should he die?
We may not know the reason
Why people are in need
What race of from what country
They come or what their creed,
But on the cross at Calv'ry
A sacrifice was paid
For those of every nation,
Their sins on Jesus laid;
It made all men as brothers
In every circumstance,
Their lives entwined with our lives
We meet them not by chance;
Their needs our needs tomorrow
May be their ministry
For they may find they're needed
To bind our injury.
We're all the hands of Jesus,
Pierced through for every man,
The nails remind us daily
Of God's eternal plan;
Our neighbours are our brothers
Whoever they may be,
Their needs we meet for Jesus
And do so lovingly.
(MW)



VOCAL SOLO : YOUR GRACE STILL AMAZES ME
Introduction 11Intro and audio Your grace (To hear the audio file please right click mouse, then left click to open new tab)
The soloist is Sandra Entermann who regularly blesses us with her vocal solos and today brings us the solo 'Your grace still amazes me.' Thank you for your gifted ministry, Sandra.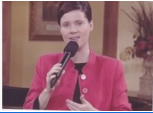 My faithful Father, enduring friend
Your tender mercy's like a river with no end
It overwhelms me, covers my sin
Each time I come into your presence
I stand in wonder once again

Your grace still amazes me
Your love is still a mystery
Each day I fall on my knees
'Cause Your grace still amazes me
Your grace still amazes me

Oh patient Saviour, You make me whole
You are the author and the healer of my soul
What can I give You, Lord what can I say
I know there's no way to repay You
Only to offer You my praise

Your grace still amazes me
Your love is still a mystery
Each day I fall on my knees
'Cause Your grace still amazes me
Your grace still amazes…

SERMON
12 Sermon Aug 2020 (To hear the audio file please right click mouse, then left click to open new tab)



Dr Malcolm Westwood


It's always a privilege to share some thoughts with you from God's Word and seeking God's mind what passage He wanted me to share today, I found myself waiting on God's leading as I walked into town. To my surprise and a little alarm, as I walked past a patch of grass I saw a man lying there. He looked rather dishevelled. His shoes were some distance from him. He lay quite motionless. Apart from one or two people who took a look but didn't think it was any of their business to see if the man was ill, others just walked by as if the man didn't exist. You'll not be surprised to know that my thoughts went to The Parable of The Good Samaritan.
Well I thought this was quite a dramatic way for God to get my attention to share the well known story with you today but I was naturally grateful. So I had the theme for the sermon but it dawned on me that this wasn't just a reminder to me of the Bible parable. Here was the parable in reality.
But I was in a hurry. If this man needed help, he was in the middle of the town. There were a lot of people who weren't in such an obvious hurry as I was. I was only carrying enough money for the purchase I wanted to make so if the man needed feeding, I wouldn't have enough to do that. Of course he might have completely blotto with booze and best left to sleep it off. But that would be just an assumption. And apart from any other consideration, he wasn't wearing a mask and the coronavirus pandemic was still a worry in the area. But someone should check on the man.
Let us for a few moments consider what Jesus said……

As we know, the parable of the good Samaritan is one of the best loved stories in the New Testament and although it's unlikely there's anything new about the story that we can learn, it's surprising how a Scripture passage will come alive no matter how many times we've read or heard it.
So let me just offer a recap of the story.
It is very likely that Jesus told this story when he was at Bethany which is about 2 miles from Jerusalem on the way to Jericho. The road was notoriously dangerous. It dropped about 3,500 feet in its 18 miles. It passes through desolate mountain ravines without any habitation except the inn we read about, the ruins which can be seen today. Even in the 5th century the road was called by Jerome, the Bible commentator, 'The red or bloody way' because of the attacks which happened there and as recently as the 1930s money had to be paid to the Sheiks to ensure one's safety.
So we can understood what a dangerous road it was to travel. With its twists and sudden turns it was ideal for bandits and robbers.

Jesus was obviously teaching people as they were seated because we're told that a lawyer stood up to address Jesus. Often these lawyers were referred to as 'Scribes'. They were learned men who knew the law of Moses and the Jewish law thoroughly.
He didn't ask Jesus a question to learn something new. He just wanted to catch Jesus out. 'Who is my neighbour?' was a test question.
If Jesus had answered by naming a group of people, the lawyer would have been pleased that by definition because Jesus would have been excluding some who the lawyer need not regard as his neighbour. The lawyer didn't ask the question sincerely wanting an answer. He just wanted to justify his way of life. And as we know, the Jews hated the Samaritans, a hatred which was amply reciprocated by the Samaritans for the Jews
The Samaritans were regarded by the Jews as half breeds. They were people of the promise who couldn't be bothered to keep themselves pure. Hadn't they opposed the rebuilding the Temple and in fact had established a rival temple on Mt Gerizm?
Surely such people could be excluded, they reasoned! Jews considered Samaritans to be impure because they had intermarried with pagans. The said they were defiled and unfit for God's service.
The Jewish lawyer wanted it stated that the Samaritans were certainly not 'neighbours' of the Jews. The Rabbis had a passion for definition and there were frequent discussions about who should be considered a neighbour.
But Jesus answered his question with a question. He asked the lawyer what the law said. The lawyer well knew the answer.
Conservative and Orthodox Jews during prayer services wore phylacteries sometimes called tefillin, small, square leather boxes containing portions of Scripture. They are are worn in pairs—one phylactery is strapped on the left arm, and one is strapped to the forehead during weekday morning prayers.
Inside each phylactery are four passages from the Old Testament one of which is found in Deuteronomy 6:4 which says "Hear, O Israel: The Lord our God is one Lord. And thou shalt love the Lord thy God with all thine heart, and with all thy soul, and with all thy might. And these words, which I command thee this day, shall be in thine heart"

The lawyer knew those Scriptures and quoted them to Jesus.

The heart refers to the emotions; the soul refers to the vitality and consciousness; strength meant power and drive and the mind meant intelligence.
The Jews had rules enough to spare about how they should obey God. That wasn't the issue here.
The Rabbis had a passion for definition. The lawyer wanted to have it clearly set out who Jesus was suggesting was a neighbour. After all some even said they shouldn't help a Gentile woman in labour as that would be bring another Gentile into the world!
So although the question wasn't one for information, it was a question which he hoped would spell out the Samaritans for instance could hardly be considered 'neighbours'.
And Jesus told the lawyer the story we know as the GOOD SAMARITAN.

Jesus said , A man-Jesus didn't name him or describe his background- who fell among thieves intent on robbing him and doing it with so much force they left the man half dead.

A large number of Priests and Levites lived in Jericho and went up to Jerusalem when it was time for them to serve in the Temple. We're told that one of these Priests was on the road-possibly to fulfil his one week's service in the Temple. If so, had he touched the injured man, it would have rendered the Priest unclean for 7 days and he would lose his much cherished turn of duty in the Temple. He was more concerned about the liturgy than the pain of the injured man. On the other hand if he had already served God in the Temple and he was on his way home, he had an opportunity to serve man. How sad it would be if serving God was simply reserved for fulfilling his role in the Temple.

The Priest could have claimed many reasons for not helping. He was on a dangerous road, the injured man could have been of some other race and the Priest could have feared being defiled by someone unclean. He might have thought, helping the man would involve him in expense. None of these things were worth mentioning by Jesus because he was to give his life for the world. Whatever his reason, the Priest knew all about social distancing because he passed by on the other side of the road despite the fact that he was duty bound by the Scriptures to help the man.

A Levite also came along the road. Levites assisted the Priests in the Temple. He did a little better than the Priest by going a but closer to the injured man but he would have know that thieves sometimes used decoys, one of their own to act as an injured man to lure an unwitting traveller to see what the problem was only to be pounced on. The Levite was taking no chances and hurried past the injured man.

Then a Samaritan came along- Jesus -doesn't describe him in any other way -and seeing the injured man he took pity on him. He had no reason to help and any number of reasons not to help the man but he had 'pity' on him implying having a love and concern for him. It was not a weak sentimental feeling. It was a love which meant giving the man immediate, emergency help by tending to his wounds. He put the injured man on his own donkey and took him to an inn and paid the innkeeper the equivalent of two days wages for a labourer. In today's money that would be somewhere in the region of £240-£300 (UK money) and promised to repay the innkeeper for any extra needed as the man convalesced.

So obviously the Samaritan's credit must have been good.
He could have considered he had done quite enough by getting the man to a place of safety. But he went to that place called 'no limits'.

Jesus asked the lawyer : "Which of these three do you think was a neighbour to the man who fell into the hands of robbers?"
The expert in the law replied, "The one who had mercy on him." He couldn't even bring himself to say the word 'Samaritan'.

Once again, as we so often see, Jesus left people in no doubt what are his expectations on them… and us. Jesus told the lawyer, "Go and do likewise." And the same commitment is expected of us, of course.

No doubt it's a story which we've probably heard many times. We've heard that if people are in need of help, we're expected to help irrespective-no ifs, no buts.
We have a wonderful next door neighbour. Every week in the present lock down they have made contact to make sure we have food. Whatever we have needed they have willingly provided and each week in our grocery bag, there's always a little tray of cakes for which they refuse to accept any money.
If we have illness, they are there for us. A while ago I had a car problem. Our neighbour was here in no time and said that his Mercedes car was available whenever I needed it. It will come as no surprise that in return we would help them in any way if it was needed. It's not difficult to help nice people, is it! But what about the people who bring misfortune on themselves and others? Yes, says, Jesus, they are our neighbours too. And that begins to make us less comfortable about this parable. I could well understand the Samaritan saying to the injured man, 'It might not have been the wisest decision to travel this dangerous road without some kind of protection.' Sometimes helpful advice is part of being a good Samaritan! But the Samaritan in the parable saw someone in need and he didn't weigh up the injured man's background or consider what it would cost him in terms of money or time. And he certainly didn't think it was a good opportunity to preach him a sermon! Someone had to help that man and the Samaritan decided he must be that man.

Yes, we have to make conscious decisions how best to help people, and to do that we must pray for wisdom. Continuous short term help without a long term plan to change the situation will inevitably result in people becoming dependent. So being a good Samaritan in obedience to the example of Jesus requires a heart of compassion, a disregard of different backgrounds and cultures. We just need a heart touched by Jesus so that we might love as he loved.

Now, would you please forgive me if I extend these thoughts in a way which perhaps we don't usually include when speaking about this parable.
Some of the ones we might be surprised to be asked to think about to whom to be good Samaritans may be nearer than we think. They may be in our place of worship. In amongst the saints with whom we are blessed to worship, can be those who are not actually very likeable. Just why they are so unlikeable may not be obvious but they can be really difficult. Whether or not the injured man on the Jericho road was conscious enough to say he was grateful to be helped we're not told.
But answering the question 'Who is my neighbour?' sometimes it's those who shun the most compassionate offer of help. It may be they have been injured emotionally and as a result their awkwardness isn't helpful to the fellowship of the Church. They are our neighbours, too.

May I just return to the man I saw lying flat out on the ground. If I walked away no one would have blamed me. Seemingly the people around were completely disinterested in the man's predicament, whatever it was. But did God draw my attention to the man just to give me a sermon to share or…… was this to be an update of the Jericho road 2000 years ago?.
With some hestitancy I approached the man. He seemed to be breathing but showed no sign of being aware that there was anyone near him. I coughed. No response. I looked around in case I needed help to deal with a sick man who was unable to move. I inched my way towards him and said with some wariness, 'Are you OK?' No response. I needed to touch him to see if he was alert. Gingerly with my foot, I moved his foot and he stirred. I repeated my question, 'Are you OK?' He opened his eyes and answered ' Yeah, just having a kip, mate!'
Perhaps he'll share the story many times of someone thinking he was half dead and the shock he gave him when he woke up.

But what if I'd read in the newspaper that a man had been found dying in the town and everyone ignored him? And Jesus knew that included me!


There is more than one Jericho road with casualties who need to experience those with the love of Jesus. Am I wrong to think that as I've been speaking God has laid on your heart someone for whom you should specifically pray, or someone you should contact to assure them of your interest in them, people who want to sense Jesus but they need help to do so.

May you be a blessed Good Samaritan.



HYMN: THE SAVIOUR OF MEN
13 The Saviour of men (To hear the audio file please right click mouse, then left click to open new tab)
1. The Saviour of men came to seek and to save
The souls who were lost to the good;
His Spirit was moved for the world which he loved
With the boundless compassion of God.
And still there are fields where the laborers are few,
And still there are souls without bread,
And still eyes that weep where the darkness is deep,
And still straying sheep to be led.

Chorus Except I am moved with compassion,
How dwelleth thy Spirit in me?
In word and in deed
Burning love is my need;
I know I can find this in thee.

2. O is not the Christ 'midst the crowd of today
Whose questioning cries do not cease?
And will he not show to the hearts that would know
The things that belong to their peace?
But how shall they hear if the preacher forbear
Or lack in compassionate zeal?
Or how shall hearts move with the Master's own love,
Without his anointing and seal?

3. It is not with might to establish the right,
Nor yet with the wise to give rest;
The mind cannot show what the heart longs to know
Nor comfort a people distressed.
O Saviour of men, touch my spirit again,
And grant that thy servant may be
Intense every day, as I labour and pray,
Both instant and constant for thee.

BENEDICTION
14 Benediction (To hear the audio file please right click mouse, then left click to open new tab)
May you be blessed with the presence of Jesus so that those in need will clearly see his identity in you. Amen.



If you would like to comment on the service, please e mail Dr Malcolm Westwood on mw@veilministries.org