In the news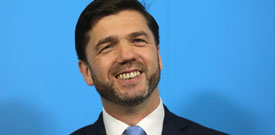 Stephen Crabb MP launches leadership bid for Conservative party leadership

Committed Christian and Work and Pensions secretary, Stephen Crabb MP, has announced his bid for the party leadership.
Mr Crabb has said God's care for widows and orphans in the Bible is his 'guiding star for social policy'. He and Business Secretary, Sajid Javid MP, have teamed up in what Mr Crabb dubbed a 'blue collar ticket.' He is standing against Teresa May MP, Michael Gove MP, Andrea Leadsom MP, and Liam Fox MP. The frontrunner Boris Johnson MP has announced he will not stand.


UK faith leaders unite in condemning post-referendum rise in xenophobic abuse

Leaders from Britain's main faith communities have condemned intolerance amid mounting reports of racist abuse in the wake of the EU referendum result.
The Archbishop of Canterbury, the Archbishop of Westminster, the Chief Rabbi and senior imams have all spoken out against division and expressions of hatred. Police recorded a 57% increase in hate crime complaints in the four days following the referendum.


Faith leaders lead prayers for Turkish people

Pope Francis has called for people to pray for peace and for the victims of a terrorist attack at Istanbul's Ataturk Airport. During prayers in St Peter's Square, he said: 'Let us pray for the victims, their families and for the dear Turkish people'. The Archbishop of Canterbury, Justin Welby, said on Twitter: 'In prayer and faith we also commit to resisting the evil of violence and religious extremism'.



Religion could improve your mental health, according to new research by Theos

Research from think-tank Theos, which analysed 139 studies over more than 30 years, has linked well-being and religious belief. The study confirmed religion affects a person's happiness and personal satisfaction; particularly participation in social activities, like church groups, and clubs.


Miracle of technology: story of Jesus to be released in virtual reality

People will be able to experience the life of Jesus as if they were there themselves, thanks to advances in virtual reality technology. Autumn Productions and VRWERX are set to release Jesus VR – 'The Story of Christ', a 90-minute virtual reality re-enactment of the New Testament, which includes Jesus's birth and death by crucifixion, along with key moments like the Sermon on the Mount.



Peace activists protest over military conference at C of E headquarters

Christian peace activists have staged a protest over a conference on military capability and strategy being held at the Church of England's administrative headquarters in London. The Land Warfare conference, opened at Church House in Westminster on Tuesday. More than 3,000 people have signed a petition launched by Campaign Against Arms Trade, demanding that the C of E refuse to host military conferences.



General Synod set to discuss Brexit

The Archbishops of Canterbury and York have added an extra debate on Brexit to the agenda for July's General Synod. The Church of England's governing body will discuss the result of the European Union referendum. The debate comes after Most Revd Justin Welby and Dr John Sentamu released a statement calling on the UK to unite following the vote.





Read More...